The CIRCLE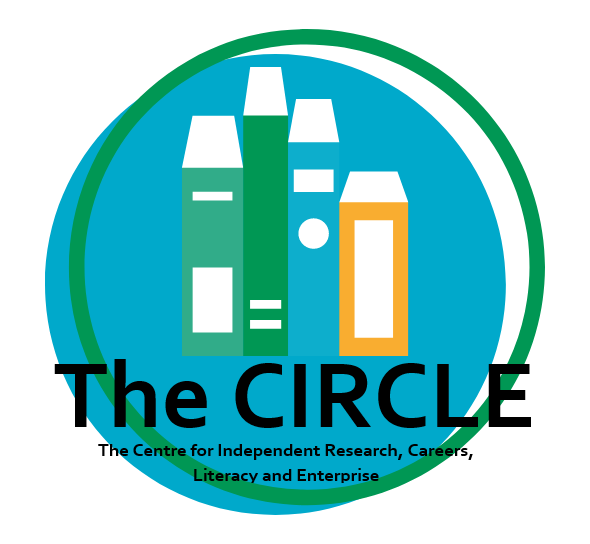 (Centre for Independent Research, Careers, Literacy and Enterprise)
The CIRCLE is available for use by all students to study, complete home learning, select and borrow books and revise.
Opening Times
Monday - Friday 8 am – 4.30pm
Formerly known as the Reading Corner, we now have a purpose built library full of books, space to reflect and escape into a good book, and be part of a community of like-minded students who enjoy reading. Whether you love reading, or still trying to find the right book, you have come to the right place.
NEW FOR 2020
Whilst we have been faced with challenges, the CIRCLE is adapting by combining the physical space with a virtual one. We have opened the CIRCLE virtually and are running the 'Mobile Librarian' system. So how does this new system work? - You can watch the induction presentation here.
To summarise, here are some of the key points from the video:
Due to the current situation the CIRCLE will operate as a 'Mobile Librarian' system.
To request/reserve a book there are two forms :-

Request a book you know the title and author of - click here.
Not sure what to read and want a recommendation then click here.

You can borrow a max. of 2 books with a loan period of 3 weeks!
There is a Book Return Quarantine procedure - Each Form will have a White Box (Photocopier paper box) that will be their form return box which I will collect. When books are returned they will be aired for 72 hours before going on the shelf.
I am also creating lots of digital content including an updated Virtual Circle, and soon a Youtube Channel for the CIRCLE as well.
They can access the form at any time and I will pick the reservation/request within the next 2 days. I will then drop it off during form time or break times. During this time I've had to further adapt to make sure it runs smoothly so I have created a FAQ sheet to help with any questions or queries.
Virtual Learning Environment
During this time, we are adapting the physical library with a virtual library. With our new ebook library, where students can access a range of ebooks from home, a virtual learning environment where students can access an online library featuring a collection of digital resources, student and staff book reviews, reading lists, book clubs and lots of recommendations!


Resources
The CIRCLE has a variety of resources: fiction and non-fiction books; journals; periodicals; and revision guides. There are also IT facilities available which are used during lessons and for home learning during break, lunch and after school.
The CIRCLE also offers a wide range of magazines, reading lists as well as the Virtual Circle, a new Virtual Learning Environment keeping up-to-date with all of our digital resources from social media. We also organise author visits and various reading events and activities. Please check the CIRCLE page of The Green School for Boys website under the tab 'Information' and follow us on Twitter @TGS_CIRCLE and @tgstcircle on Instagram.
Borrowing
Students are allowed to borrow four books for two weeks at a time but these can be renewed if necessary
If for any reason the book is overdue, a notice will go on the tutor notices to remind you to return or renew it. An Overdue policy is in place, failure to bring the book back will result in a Learning Meeting and further to that you will receive an email home and you will be charged to replace the book if lost or damaged.
You do not need to bring the book with you to renew it but you must renew it before the date it is due in. An Overdue policy is in place, failure to bring the book back will result in a letter home and further to that, and you will be charged to replace the book if lost or damaged
Borrowing is encouraged over October, February and May Half term
Code of Conduct
The CIRCLE is a place of learning where you can study/read in complete silence
Use the printer after school only
Please follow the Code of Conduct at all times
Please respect and treat books with care
The Circle Newsletters
TGSB CIRCLE Newsletter Edition 1
TGSB Keep Calm and Keep Reading - 07 01 21
TGSB Keep Calm and Keep Reading - 15 01 21
TGSB Keep Calm and Keep Reading - 22 01 21
TGSB Keep Calm and Keep Reading - 28 01 21
TGSB Keep Calm and Keep Reading - Children's Mental Health Week Special 05 02 21
TGSB Keep Calm and Keep Reading - 12 02 21
TGSB Keep Calm and Keep Reading - 26 02 21
TGSB Keep Calm and Keep Reading - 05 03 21
Remember, if there is a something you want but don't see, please ask the Librarian
Read Beyond Your Grasp